OMG!! ZOMBIES SPOTTED IN AUSTIN!
Posted on: January 29th, 2009 by Gabe Wollenburg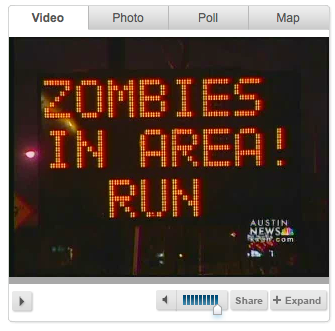 Watch out kids! Construction signs in Austin have recently been made to alert the public of an ongoing zombie attack. We here at Writelarge.com do not support these sort of shenanigans, no matter how cool this instructable on hacking those particular machines is.
Let us be very clear: We do not support the fraudulent raising of zombie attack alarms. The threat of zombie attack is far too real for us to take lightheartedly.
The fact is, we are very concerned about the public's general attitude toward the alarms raised by these signs. As you drove to work  They may have been fraudulent this time, but what about the next?
It makes me think, I should plan on doing a session about techniques for shooting the zombie apocalypse at PhotoCampMilwaukee. Just because its the end of the world doesn't mean we should stop making art, right?
Comments

Writelarge.com by Writelarge.com is licensed under a Creative Commons Attribution-Noncommercial-Share Alike 3.0 United States License.